Registration Information
Q4 Environment & Energy Council Meeting
...

Southwestern Indiana Chamber of Commerce

...

Chris

It's been a crazy week but I wanted to double back and thank you for expediting this report.  I truly appreciate the extra effort and concern to complete a thorough environmental exam on the property. ...

Environmental & Safety Solutions of Indiana closes former asphalt plant remediation with the Indiana Department of...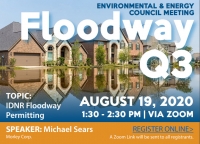 Attached is a flyer on the August 19th Environmental & Energy Meeting concerning IDNR Floodway Permitting.  Please register using the link listed on the attached flyer.  If you have any questions or need help registering, please...
Pages